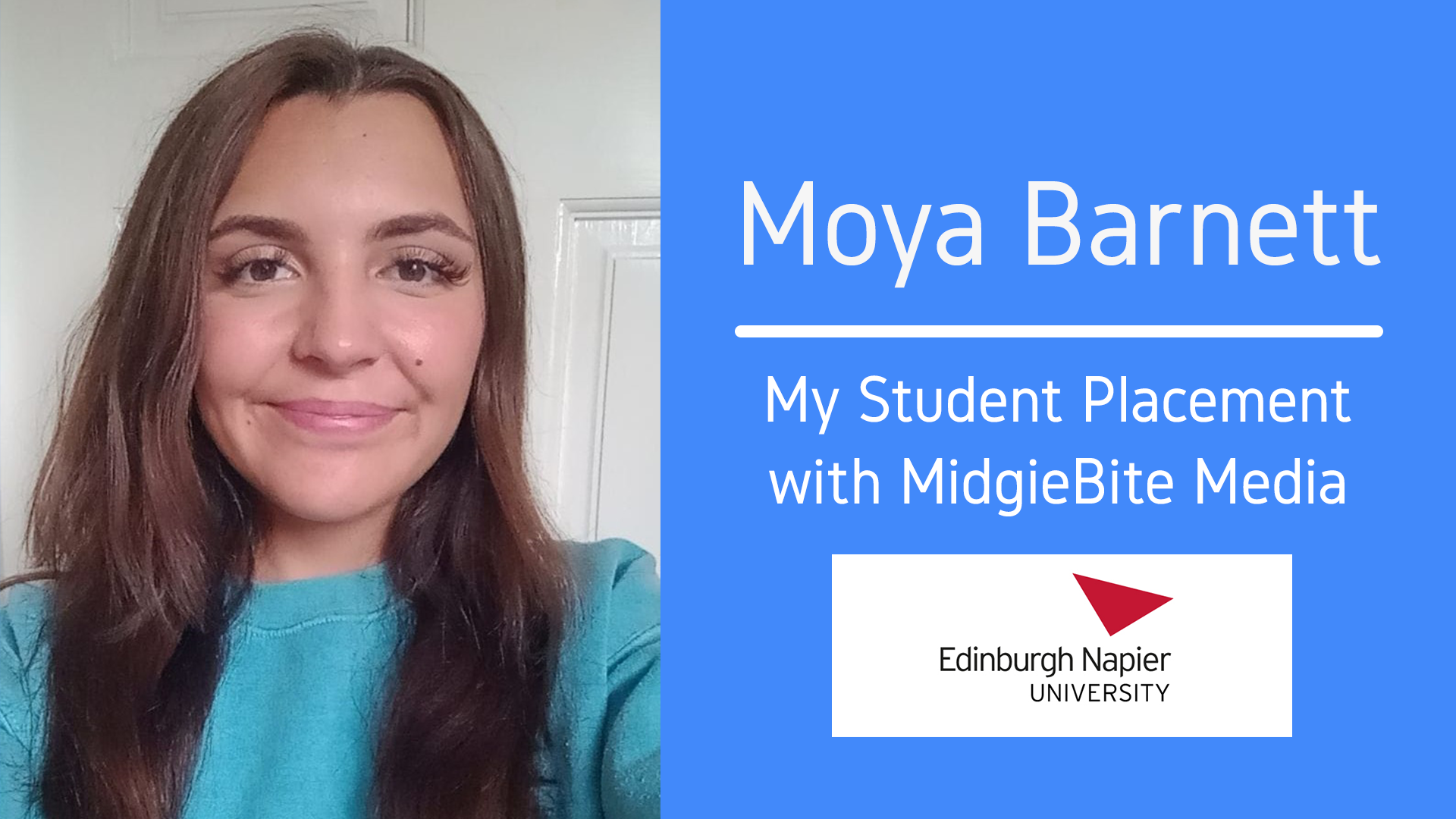 We were delighted to work with Napier University to offer a work placement to one of their BA Television students. Fourth-year student Moya Barnett worked with our team last Autumn, and proved to be a fantastic asset to our productions.
In this blog, Moya has written all about her experiences working with us, which was a joy to read. A massive thanks to Moya for all of her hard work, and congratulations on her recent graduation! We're looking forward to hopefully working with Moya again in the near future.
About Me
I am a 4th-year student studying BA Television at Napier University. For my work-based module, I was required to do 40 hours of placement at a production company. I applied to MidgieBite Media as it just felt more like my style which is why it was my top contender for a company to work with.
I feel a strong connection to the types of projects this business focuses on. Music, dance, and art are what introduced me to the creative industries, and it has driven me to become more creative as a producer in film, TV, and media. Creating ideas that incorporate these art forms is important to me. I sometimes struggle to articulate what I mean, due to being a neuro-divergent student, so I find merging these art forms with drama help me to express where my words may fail.
I'm particularly interested in producing. However, I have a background in arts and crafts – such as fine arts and costuming – and I look to bring those together with the projects I work on. I believe storytelling comes in many forms.
Why I chose MidgieBite Media for a Work-Based Placement
What attracted me to MidgieBite Media was how they are inclusive to all, not only in the range of content but also in the range of audience.
I worked with Gavin Hugh and Jenni Leigh. During my time, I got to meet Ruth McCabe from the Dementia Friendly Team at Fife Council, discussing how to make media that is dementia friendly and how to interact with it.
I admired how Gavin took time to research and communicate with the community to make sure he handle topics sensitively, delicately and honestly. I admire that he took the time to reach out to Ruth and talk to her, showing that it is something he really does care about.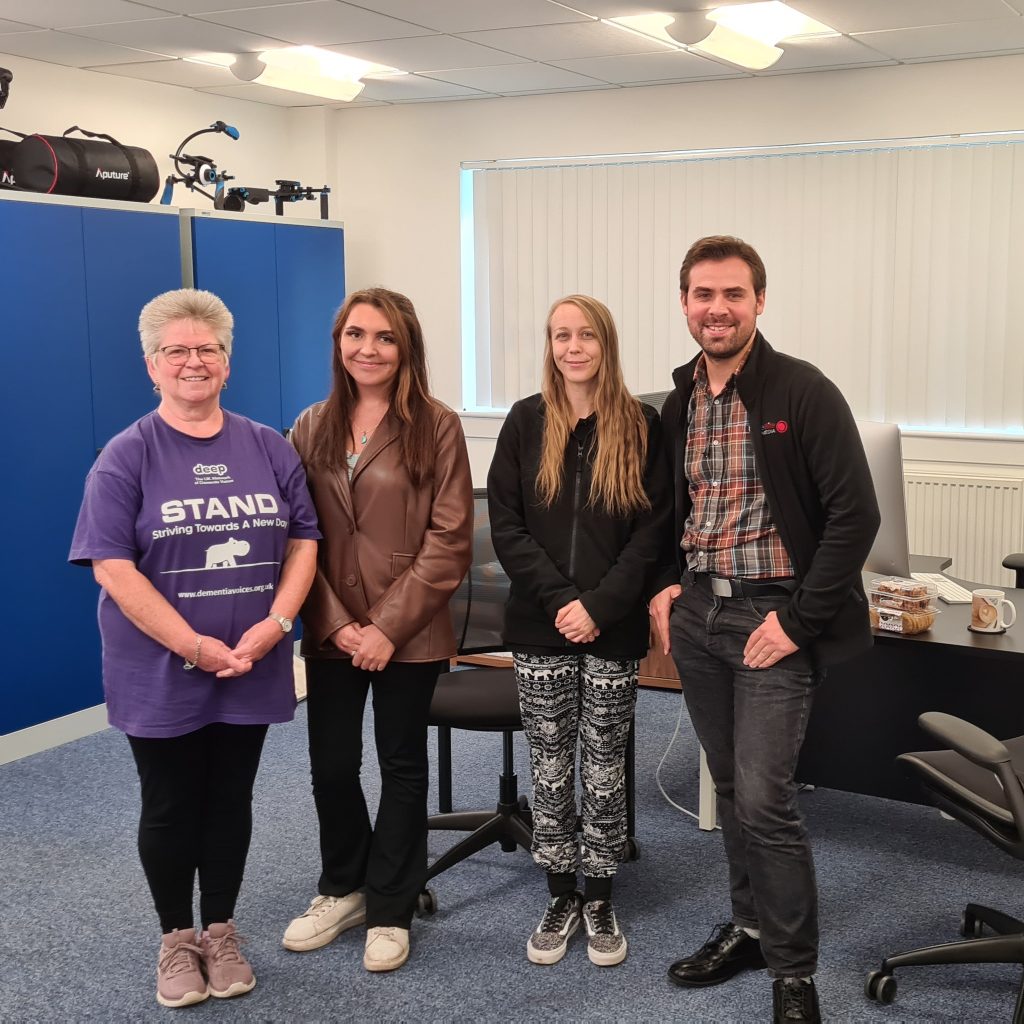 Music Video: Lights Out by Nine
The main project that I worked on was a music video for the band Lights Out by Nine.
On my first day, I attended a location recce, where we discussed solutions and ideas to dress the set up. One week later, we had the rehearsal where I met the dancers and we blocked the scene with choreography, all whilst playing with the lighting design to see what worked.
We played about the coloured gels and lighting until we had a visually pleasing set up that we were happy with. Gavin went with warm orange lighting which matched the scenery and the props of the stage, and we decided this was going to be the setup for when the band is performing as it looked visually pleasing. We then fell on this blue, purple, and pink combo that Gavin liked to call 'fantasy lights', which we decided to use for the dance performance. The difference in lighting was to show the dancers entering their own dream world.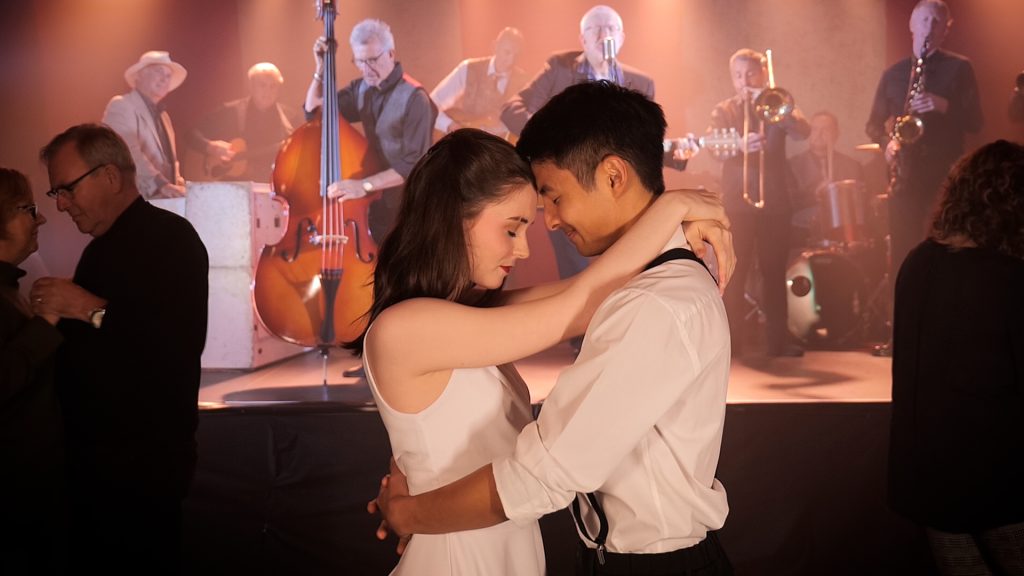 For the filming day, I was acting as a general assistant, helping with continuity, camera logging, and a lighting. We got straight into setting up equipment and set design. I worked with the second camera operator, Jenni Leigh, and we were in charge of dressing up the location, which included covering anything that shouldn't be seen on camera.
We then took a while to dress up the doors with red curtains to make it look like a theatre. This took a while to shape. We then had to clean the floor, making sure there was nothing on the ground that could potentially hurt the dancer's feet as they performed.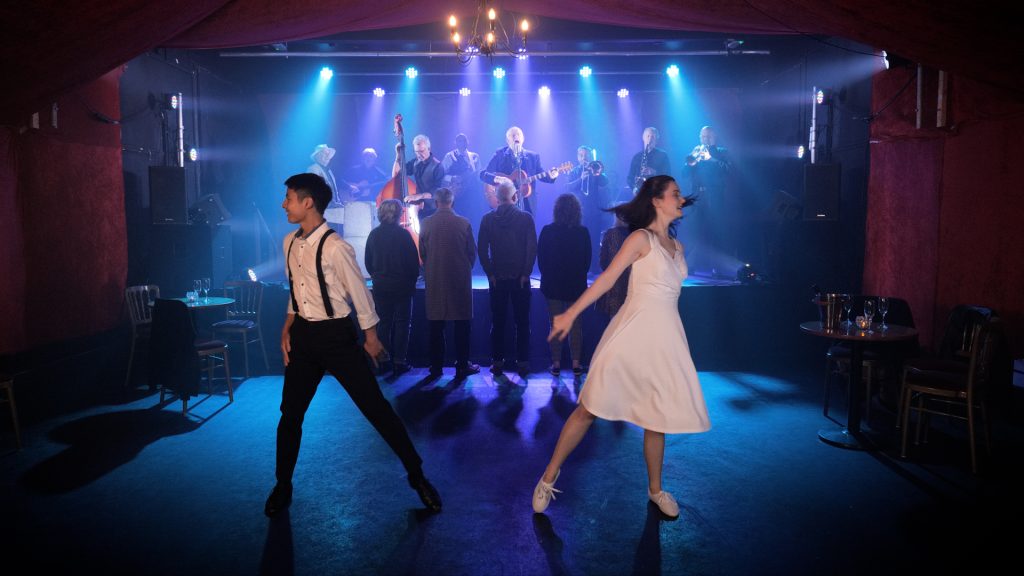 When filming started, I was in charge of timekeeping, camera logging and taking notes, looking out for continuity issues, and making sure none of the extras ran off before finishing. Meanwhile, Gavin and Jenni focused on camera operating and directing.
This day was the most fun for me as music and dance media really excites me, so I was happy to be a part of the project. I got to learn a lot about professionalism on set as well as working with and directing a large group of people.
Sports Filming: Scottish Disability Golf & Curling
We also filmed at Kinross Curling with Scottish Disability Golf & Curling.
We had a lot of flexibility and creative freedom to do what we liked with the production. All that was planned were curling games, and we were to record a selection of matches and get interviews with some of the members of the team.
As it was a pretty flexible day, Gavin gave me creative control with the camera to help get me some practice, as I'd previously told him that my skills were more in the paperwork and organizing rather than practical. We had multiple cameras with us, so Gavin was acting as if he was the only camera operator to make sure he got all the shots he needed, but allowed me to play about with another camera.
For this, I got to use a gimbal for the first time, and I realized that using a gimbal is not as easy as it looks. I had a lot of struggles trying to control the gimbal as it had a mind of its own. However, it is a very useful piece of equipment to learn how to use. This was a good opportunity to learn, so I am grateful that Gavin gave me that opportunity, as the only way for me to learn is to go outside of my comfort zone.
Reflections on my time at MidgieBite Media
I am very appreciative that Gavin gave me this opportunity to learn and grow.
When I told him that my camera operation skills is an area for improvement, he gave me the camera equipment and the patience to play about and learn whilst on a shoot. He told me that: "If you can get at least one good shot, then it's all worth it."
As someone who has an attachment to being close to home, being able to see that this is a successful business that is based in a town in Fife makes me feel more secure in the industry, knowing that I don't need to leave my hometown behind to be able to achieve my goals.
This opportunity at MidgieBite has given me a new and positive perspective on what my future will bring, and I'm grateful to have been able to work with such a friendly, amazing, and hardworking team.